About
Signature Hotel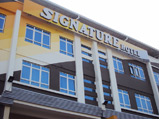 A city hotel that links both east and west coast of Malaysia boasting its central location within easy access to public transports, shopping malls, medical centres, government offices and famous local restaurants. A panoramic view of the South China Sea can be viewed from the hotel's upper floors.
This hotel offer cosy and comfortable accommodation for long short term guests as well as expatriates, with long term needs.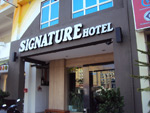 Location
Located in the heart of Kuantan amongst State and Federal Government Agencies, Banks, Shopping Centres, Kuantan Central Bus Station and Central Wet Market. It is approximately 10 minutes drive to the famous Teluk Chempedak Beach and only a half an hour drive to Cherating Beach.
The hotel serves as an anchor point and gateway to tourism and business in the East and West coasts of Malaysia.
Room & Accommodations
We have 47 fully equipped and furnished Rooms.